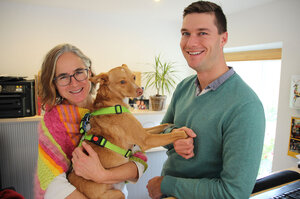 Our family business is now in its third generation. Old and young work hand in hand together. This is how we combine traditional values ​​with contemporary improvements in order to adress to young and old alike. Our goal is to offer our guests a vacation experience that we would like to experience ourselves. Therefore, the following points are particularly important to us:
Tidiness - We are convinced that a fresh and clean apartment is the basis of a relaxing holiday. Here we take an extra step.
Proximity - We know that having a helping hand in planning can make the difference between a good trip and a very good one. We are available to our guests in the reception, by phone, WhatsApp, etc.
Kindliness - Everything starts with a smile ... Guess what? Here you get more than one smile!
We look forward to seeing you!

Our History:
1880 - 1905: The "Bierkeller Todtnau"(beer cellar) is used by two local breweries to store beer and snow for beer cooling
1905 - 1915: The building was vacant due to breweries' closure
1915 - 1950: Conversion of the beer cellar into a residential building for the Steiert family
1950 - 1975: Extension and outbuilding of the holiday apartments
1975: Foundation of the Steiert guest house by Maria and Rudolf Steiert (1st generation)
2018: Guest house takeover by daughter Elisabeth Bode-Steiert (2nd generation) and grandson Jannik Bode (3rd generation)
2020: Podenco FOX joins the team (responsibilities: yard security, data protection & reception)
20…: Guest house outbuilding opening